Burckhalter-Highsmith Funeral Home Chapel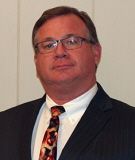 Chris Highsmith
Owner/Funeral Director
Chris@highsmithfh.com
Chris is a native of Craig County and graduated from Welch High School in 1979. He attended NEO A&M College in Miami and received his degree from the Dallas Institute of Funeral Service in 1987.
Chris was born in Vinita and is the son of the late Dennis "Bud" and Maxine "Shorte" Highsmith. Chris remains very close with his family including his three brothers, Greg, Grant and Kyle. Chris's dad passed away in 2008, but his mom, Maxine, is still very active in the Welch Community. Chris married his wife, Vicki, in 1983 and has three children, Cameron, Haley and Hunter as well as one grandchild Walela.
Chris is an outdoorsman who enjoys activities such as hunting, fishing and hiking. He also coached football and basketball teams for over 25 years in the Vinita Little League and several baseball teams up to the high school age level. He enjoyed watching many of those young people grow up and be successful in life.
Chris's family are members of the New Life Church of Vinita. He also serves on the ROCMND youth services board and has served on the Vinita Chamber of Commerce Board along with several other local boards and committees.
Having served as a funeral director in the local community for over 30 years has been a great privilege for Chris and with the opportunity to have their own funeral home, Chris hopes to continue to serve the area for many years to come. He could not think of a better place to live, work and serve others. He is humbled by God's grace and thankful for being blessed with such great family and friends.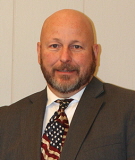 Danny Straw
Licensed Preneed Agent
danny@highsmithfh.com
Danny was born and raised in Vinita. He and his wife of thirty years, Danna, continue to make Vinita their home. Together, they have two daughters, Rebecca and Gracie. Danny enjoys spending time with his family and visiting with the many friends he has made over the years. He is an avid OU and Minnesota Vikings fan and enjoys rooting for them as well as watching sports in general.
Danny comes to Burckhalter Highsmith Funeral Services with 20 years' experience in the funeral business. He enjoys the opportunity to help people and is very caring and compassionate in nature. Danny is a licensed preneed agent and able to assist you with all of your advanced planning needs.